From the Netherlands to Clermont-Ferrand 2023
An overview of everything Dutch related at the 46th edition of Clermont-Ferrand International Short Film Festival
The Clermont-Ferrand International Short Film Festival will take place between January 27 and February 4. Four Dutch short films are selected for the competitions and Young Audience programme. Furthermore, SEE NL will be present at the Short Film Market, Clermont-Ferrand ISFF's industry section that takes place between January 30 and February 3.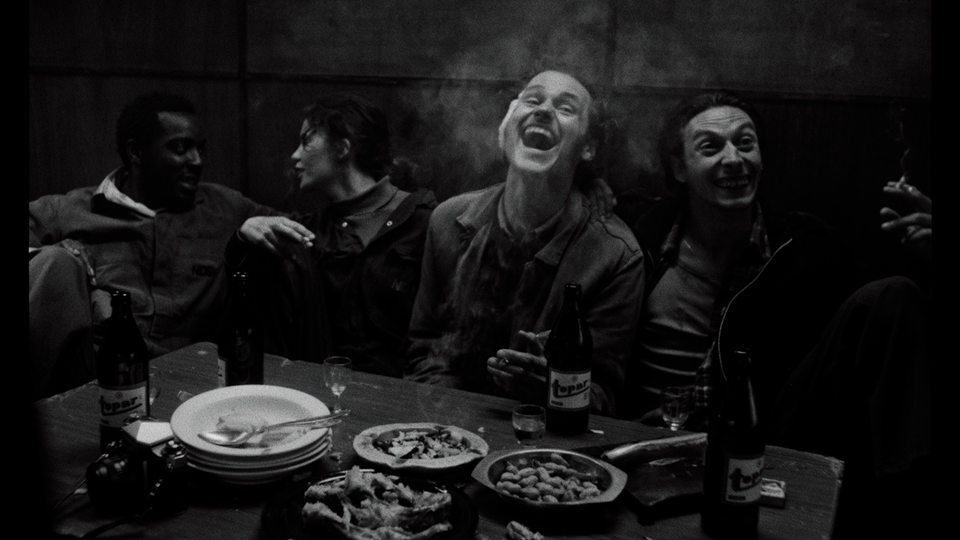 Obesk by Jonas Smulders
International Competition
Obesk* by directed by Jonas Smulders and produced by Rianne Poodt for The Rogues celebrates its international premiere in Clermont-Ferrand. Sales are handled by Gargantua Film. A close-knit group of young dockworkers always comes to Obesk, a filthy and harsh harbour cafe, to wash away their day's work. But when one of them decides to try their luck in Milan, the three remaining friends notice that the group is starting to fall apart. SEE NL talked to Jonas Smulders about his short film, read the full interview here.
There will be Q&A with director Jonas Smulders after the screening on February 4 at 09:30 AM.
Lab Competition
Douwe Dijkstra's short hybrid documentary Neighbour Abdi*, produced by Richard Valk for Valk Productions continues its successful festival run with its selection for Clermont-Ferrand. Square Eyes handles sales. Neighbour Abdi world premiered at Locarno Film Festival 2022, where it won Pardino d'argento SRG SSR for the International Competition, followed by among others: Best International Short at Film Fest Gent, Grand Prize at Winterthur International Short Film Festival and Best Live Action Short Film at Talinn Black Nights Film Festival. Somali-born Abdi is furniture designer and support worker. He reenacts his life, marked by war and criminality, with the help of his neighbour and filmmaker Douwe. Through playful reconstructions in a special effects studio, Abdi and Douwe embark on a candid and investigative journey through a painful history, focusing on the creative process throughout. SEE NL talked with Dijkstra earlier in light of the film's world premier in Locarno, read more here.
There will be Q&A with director Douwe Dijkstra after the screening on January 31 at 09:30 PM.
Young Audience Programme
Animated short Pig* by Jorn Leeuwerink and produced by Tünde Vollenbroek for Studio Pupil is selected for the Young Audience programme. Sales are handled by SND Films. Earlier festival selections include Filem'On Brussels International Children's Film Festival, Stuttgart International Festival of Animated Film, Interfilm Berlin and many more. In Pig, a group of animals hook up a power grid to the socket-shaped snout of a large, sleeping pig. The animals use the pig's energy for simple things at first, but they are soon dependent on a city where everything is automated.
Minority Dutch co-production Luce and the Rock* by Belgian director Britt Raes is also included in the Young Audience programme. Amsterdam-based Studio Pupil co-produced the animated short. Miyu Distribution handles sales. After world premiering at Berlinale Generation Kplus the short continued its festival run at among others Annecy International Animation Film Festival and Schlingel International Film Festival for Children and Youth. Luce and the Rock is the story of two friends who, although they seem to have nothing in common, end up facing their fear of the unknown together. SEE NL interviewed co-producer Tünde Vollenbroek before Luce and the Rock's world premiere. Read it here.
SEE NL in Clermont-Ferrand
SEE NL is present at the Clermont-Ferrand Short Film Market from Monday January 30 through Thursday February 2 at booth #H3 SEE NL - The Netherlands. Find out everything about brand new Dutch shorts, pick up your copy of the Selected Dutch Shorts 2023 and meet Dutch filmmakers and other representatives from the Dutch delegation at Clermont-Ferrand this year: Cinekid Festival, Go Short Nijmegen, Kapitein Kort and SND Films.
For more information on Clermont-Ferrand International Short Film Festival and Short Film Market, click here.
_______________________________________________________________________________________________________________________
*Film is supported by the Netherlands Film Fund