Clermont-Ferrand 2023: Obesk
Clermont-Ferrand International Short Film Festival: International Competition
Dutch director (and leading actor) Jonas Smulders talks to SEE NL's Geoffrey MacNab about his dramatic new short film that depicts bar room life in all its glory - and all its squalor.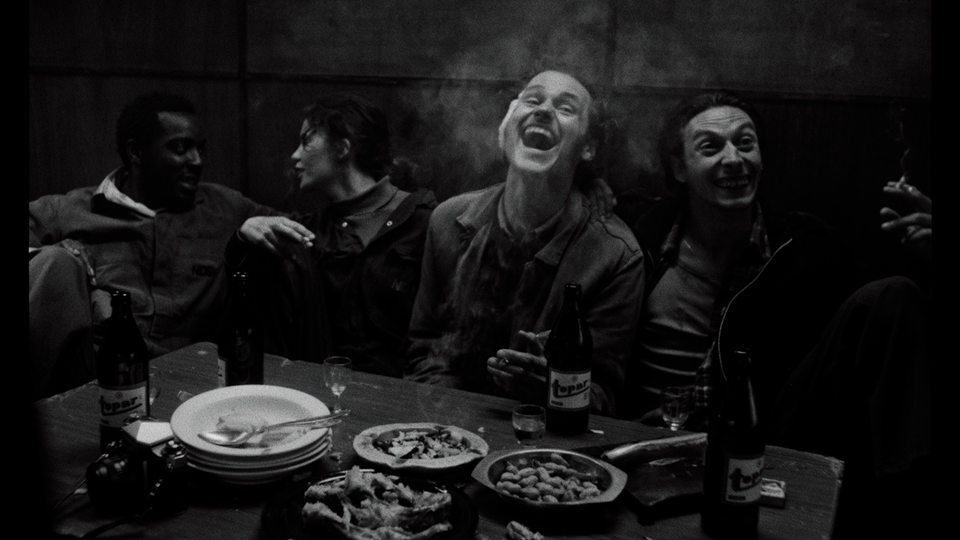 Obesk by Jonas Smulders
Often, when filmmakers depict bars and serious drinking in movies, it can feel deeply contrived. The brawling, the violence, the raucousness and the misery are just not that convincing. No-one can level that accusation at Jonas Smulders' Obesk*. Shot in black and white, it offers a hyper-realistic portrayal of bar room culture in all its joy, squalor and desolation.
"I did a lot of street casting," the director (who is also one of the Netherlands' top young actors) says of how he assembled such an authentic-looking bunch of barflies.
"I wanted the atmosphere of the place to resonate with the viewer so it almost becomes physical. You can smell it. You can feel it," Smulders underlines.
He acknowledges, though, that there is some artifice. The main actors were given fake teeth and wigs. There was a lot of make-up too to accentuate their hungover appearances.
The visual style of the short, and some of its story too, is inspired by a photo book called Cafe Lehmitz by Swedish photographer, Anders Petersen. This is a compilation of pictures taken in a rundown, notorious working bar on Hamburg's Reeperbahn.
"He [Petersen] got kicked out of art school in Stockholm and went to visit his uncle in Hamburg. He ended up drinking and going out - and he ended up in the Cafe Lehmitz. He went to the toilet but he forgot his camera at the bar. When he came back from the toilet, people were taking pictures with his camera," Smulders explains how the photo book came into being. "He developed the pictures, went back to the Cafe and said to the people that if you like the pictures, you can take them. He gained their trust and for the next coming year, he photographed them."
One of the most startling images in the film is of one of the drinkers having his ear bitten off by a furious and jealous woman. This, the director reveals, was inspired by an image from a Dutch photographer Ed van der Elsken in his photo novel Love On The Left Bank.
Obesk is produced through Rianne Poodt's Amsterdam-based company The Rogues. In the film, a young docker who drinks in the bar has gone missing. He is trying his luck in Milan. With this departure, his friends begin to wonder if their close-knit group can stay together.
"If you look closely, everybody is just alone and lonely," Smulders says of his hard-drinking protagonists.
The film is about friendship as well as escapism. "It's about this collective identity you share when you're young. Then, you sort of stumble upon adult life," Smulders reflects. "This collective identity vs individuality is also something I experienced in my own life and that I wanted to show in the film… you're stuck in reality where this old friendship isn't there anymore."
He experienced this when he drifted apart from his "very tight" group of long-time friends. "We tried to connect a few years later but it was super difficult. Everyone was on their own island, trying to reach other but finding the old connection was really difficult."
Smulders and his crew couldn't find a bar which lived up to the Cafe Lehmitz - so they built their own version of it in Amsterdam. The brilliant production designer Jan Jasper van Oord oversaw the construction of the set, making sure every last beer mat and bottle top felt right.
Smulders, a former Berlin Festival Shooting Star and Golden Calf winner has a blossoming career as an actor. He plays the lead role in Jessica Woodworth's new epic Luka**, selected for IFFR Big Screen Competition. His other recent credits in front of the camera include such movies as Mees Peijnenburg's road movie Paradise Drifters**, Shady El-Hamus' Netflix crime drama Forever Rich and Jim Taihuttu's 1940s-set The East**.
The Dutch star may have a parallel life as a director but, as yet, hasn't appeared in any of his own movies. "Up until now, I didn't write anything with myself in mind… maybe in the future [I will], but I have to say, I find it super difficult only to direct - I need all my energy and focus for that!"
Obesk is produced by The Rogues. Sales are handled by Gargantua Film. To see the full Dutch line-up at Clermont-Ferrand ISFF, click here.
______________________________________________________________________________________________________________________
*Film is supported by the Netherlands Film Fund
**Film is supported by the Netherlands Film Fund and Film Production Incentive