9 Dutch (Co-)productions at Ale Kino 2022
Wide selection of Dutch films at Poznań's film festival for young audiences
International Young Audience Film Festival Ale Kino! has a total of nine Dutch (co-)productions selected for its 40th edition. The festival takes place in Poznań from October 1st to October 7th, 2022 and from November 30th to December 4th, 2022 in a hybrid format. The aim of the Festival is to present and promote valuable films for children and young people. The Festival is organised by Centrum Sztuki Dziecka w Poznaniu (Children's Art Centre in Poznań).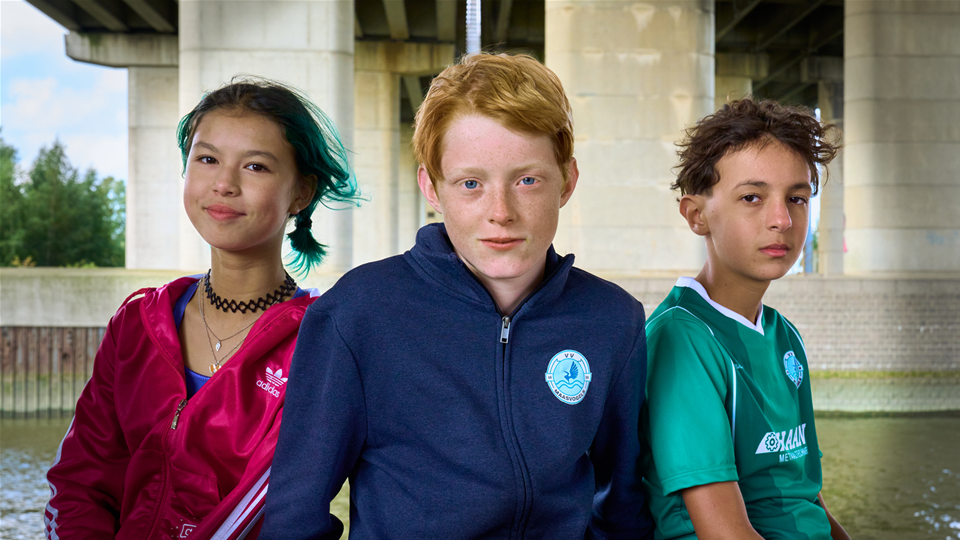 Bigman by Camiel Schouwenaar
4 Features Selected for Ale Kino!
Bigman** by Camiel Schouwenaar and Rinkel Film has been selected for the special programme Football Zone. The film world premiered at the Zlin International Film Festival for Children and Youth and selections among others, Giffoni Film Festival, Warsaw Kids Kino International Film Festival and Miskolc International Film Festival - Cinefest followed. Bigman is a bold family drama centered around 13-year-old soccer player Dylan, who is forced to accept fate after a car accident leaves him wheelchair-bound. But, through his friendship with Youssef and 14-year-old Maya, he rediscovers his joy for life. Sales are handled by M-appeal.
Furthermore, three minority co-productions screen at the festival. I Am Zlatan**, directed by Jens Sjögren and co-produced by Keplerfilm, is selected for Ale Kino! Football Zone; Close**, directed by Lukas Dhont and co-produced by Topkapi Films, is selected for Young People's Panorama and Where is Anne Frank**, directed by Ari Folman and co-produced by Submarine, is selected for the Children's Panorama.
5 Shorts Screening at Ale Kino!
4 Dutch shorts are selected for Ale Kino's Shorts competition: Fur, Noor, Spotless* and Luce and the Rock*. Fur is directed by Madeleine Homan and tells the story of girl who struggles with the fact that her sister has turned into a creature covered by fur. It has grown on her like moss and now starts to grow between the two of them. She tries to make the fur go away, but even the best ways do not seem to work. That day, the girl finds out that some things are not as easy as they seem.
Noor by Louka Hoogendijk and Burk Film follows Noor and her mother. Travelling with her mother to a northern island where her family is gathering, Noor faces a painful moment that she quietly tries to avoid. All the while, the wild nature of the island guides her to a white lie that she will never forget. Sales are handled by Kapitein Kort.
Premiered internationally at the Berlinale, where it won a Crystal Bear, Spotless by Emma Branderhorst and IJswater Films tells the story of 15 year old Ruby, who realizes she is having her period but does not want to ask her mother to buy period products as their financial situation does not really allow it. To make sure she does not bother her mother, she tries to solve the problem herself. Sales are handled by Kapitein Kort.
Luce and the Rock is a minority Dutch co-production directed by Britt Raes and co-produced by Studio Pupil. The film also premiered at the Berlinale, where it received a special mention of the children's jury. Luce and the Rock is the story of two friends who, although they seem to have nothing in common, end up facing their fear of the unknown together. Sales are handled by Miyu Distribution.
Rounding up the Dutch shorts at Ale Kino! is Sally (2005) by Roel Wouters and Luna Maurer. It screens in the programme for the Youngest Young audience. Sally is a short film that shows marbles in a room. The gravitation of the room is variable therefore the marbles will dance over the floor, walls and ceiling. It is part of the Great Art for Small People series.
For more information on International Young Audience Film Festival Ale Kino!, click here.
___________________________________________________________________________________________________________________
*Film is supported by the Netherlands Film Fund
**Film is supported by the Netherlands Film Fund and Production Incentive