Berlinale Generation Kplus: Luce and the Rock
Dutch co-producer Tünde Vollenbroek of Studio Pupil explains the appeal of the short Berlin-bound animation Luce and the Rock and its creator, Belgian animator Britt Raes.
In Raes' charming and pleasingly geometric Luce and the Rock, our eponymous infant heroine lives peacefully in a tiny village with her mum and the other villagers. Luce may be afraid of the dark, but her light sticks keep her safe. But one morning the villagers wake up to encounter a large, clumsy and very sleepy rock creature in their midst. Every time it stretches an arm, it destroys another roof on another house, which angers Luce, who is determined to take it back to where it came from. But little by little an odd friendship develops between the two…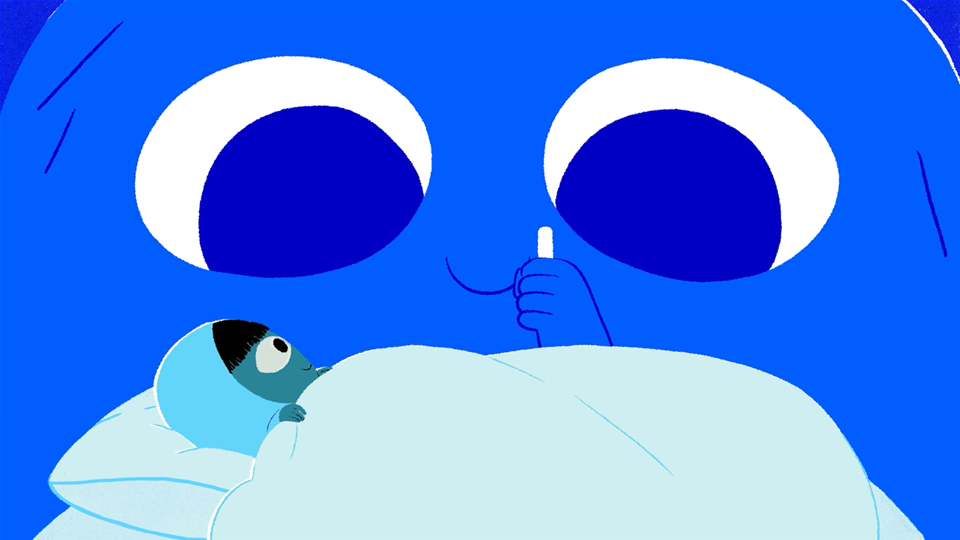 Luce and the Rock by Britt Raes
Dutch producer Tünde Vollenbroek has known Raes for over ten years after meeting her at a festival in Brussels in 2010. Since then, they have kept in close touch, offering detailed feedback and comment on each other's work. "We are both people who just pick the people that we really love, and then we work with them," says Vollenbroek, who of course reacted favourably to Raes' suggestion that she should co-produce her new animation. "So that is kinda how it came about. I just love the work of Britt because it is so whimsical and funny, but it is also deep."
In her notes for the film, Raes explains how she was "inspired by the vibe of fairytales and folktales. But I did not want to have a 'good guy/bad guy' type of story. There is no right or wrong, just different characters who experience the same world in a different way. Moralistic judgements encourage violence and I want to stimulate a different way of thinking in the stories I create."
"I also did not want to feature a princess or a king as a protagonist," she adds, "but to show very common people in a very common world, living a very common life. I used very relatable archetype story elements, making the mundane magical."
Vollenbroek agrees, citing the film's obvious metaphorical overtones of tolerance and acceptance of the other. "What we really love to make is animation with social relevance, but told through stories and characters," she says, while reminding that visual stimulation is just as much a consideration. "Yes, it has a very clear kind of statement, but when you watch the film you are just enjoying it, so that very much fits our character as well. Visually it is just pure, lovely 2D animation, and that is what we like to do."
In terms of the Dutch aspects of the collaboration, Vollenbroek points to the evocative and highly imaginative music and sound design of Bram Meindersma, who worked on the Academy Award-nominated animated short Tiny Inventions by Max Porter & Ru Kuwahata. "He has the same kind of whimsical approach to sound as the director has, so that was a perfect fit," says Vollenbroek. Dutch aspects of the co-pro also included colouring and clean-up, and background texturing.
"I have to say that for us as a co-producer it was pretty seamless," Vollenbroek adds, despite this being Belgian company Thuristar's first short film. "But they have made series before, so they are hyper-organized. For us there was little to do in terms of organizing. It is quite funny to me because you would think like a first short film would be a bit chaotic, but because they come from very high quality series production, it was top notch organization."
"What I really love about Luce and the Rock is that it is pure animation. What we are always looking for in animation is that it uses the medium to its fullest. And this film has all of that," Vollenbroek concludes.
Luce and the Rock is produced by Thuristar (Belgium), in co-production with Studio Pupil. Festival distribution is handled by Miyu Distribution. The short animation is supported by the Netherlands Film Fund.