IFFR Bright Future: The Last Ride of the Wolves
Director Alberto de Michele talks to See NL's Geoffrey MacNab about his latest film that world premieres at IFFR 2022
Alberto De Michele's The Last Ride of the Wolves (world premiering in IFFR's Bright Future section) is a heist movie with a difference. It is as much a voyage around the director's father as it is about the robbery that is being planned. It is both a genre piece and an exercise in filmic autobiography.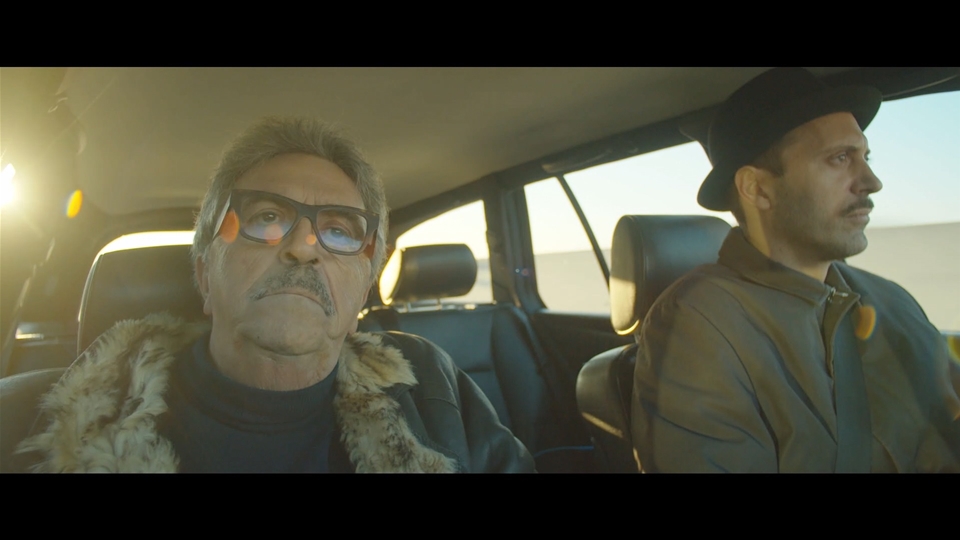 The Last Ride of the Wolves by Alberto de Michele
Much of the film, made through production outfit Halal, involves Pasquale (played by the director's father, also Pasquale) being driven around by his son as he tries to bring together the Wolves, a hardened if ageing gang of Italian fairground operators from the Venetian region, for a last job.
"It is my real-life father and they are the real-life thieves - and I worked with real people," says the director.
The project started when Pasquale told his son about his retirement plans. He hoped to rob a transport truck. "When he told me about it I was very intrigued," De Michele remembers. "My father is a bit of an old crook. He has always been dwelling in, let us say, the dark life."
At one stage, the director thought he would be filming the "real preparation" for "the real robbery."
In the event, the heist did not come off. De Michele therefore re-thought his plans and made the film as fiction. He comes more from the art world than from cinema. His previous work has generally been shown in galleries and museums (although his 2012 short The Wolves, also about the gang, was in Rotterdam's Tiger competition.) The Italian-Dutch director had always wanted to take on a feature. Now, he saw his chance.
"When he told me the robbery failed, I thought, wow, which better way to make my first film - and to use the medium of film to actually make the robbery happen," De Michele says. "The Wolves and Pasquale give this glimpse into a world which is normally off limits. They show us how a real preparation of a robbery takes place, from an insider point of view."
This is not the typical mobster or crime film in which James Cagney or Al Pacino go in all guns blazing. Pasquale has to deal with a lot of very banal logistical details before the robbery can take place. For starters, he needs to make sure the warehouse is ready. Getting the team members together in the right place at the right time is itself a considerable challenge. It is all very hard and stressful work. The robbery is taking place against grey, north Italian industrial settings.
Much to the director's surprise, the Wolves were keen to play themselves on screen. Like many gangsters before them, they are prey to a certain vanity. They liked the idea being in a movie.
It was not always easy to work with them. They had the tendency to "behave like Marlon Brando. They were fighting with each other about how to do certain things."
Another occupational hazard was the constant threat they might be arrested. One of the Wolves gave the director the number of his lawyer in case this happened and he could not make it onto the set the next day.
Geoffrey asks Alberto what Pasquale and the Wolves think about the movie. "If only swindlers would know how much they could earn by being honest…" he answers with a joke.
There are many layers of irony to The Last Ride Of The Wolves. In his own way, Alberto himself is as much of a thief as his subjects. He is stealing their stories. If they are con artists and fabulists, so is he. In his previous work, he had often been in dangerous situations but this was the first time (as he puts it) that "I have actually robbed where I come from."
No, Pasquale was not a devoted family man. Nor has he ended up with a lot of money. "It is this great anti-hero story. He had everything and then he lost everything… at this moment, he is just living with a small pension." Even now, Pasquale's gambling addiction remains. "It is all about this little moment before the ball falls. It is all about this two seconds. As soon as it falls, you win or you lose - it does not matter."
Alberto spent much of his childhood in the Netherlands with his mother (who is Dutch), but when he went to visit his father in the summer in Italy, Pasquale would take him to casinos and bordellos. He would always have huge cars which he would park illegally, often leaving the keys inside just to see if anyone would steal them.
"I got introduced to, let us call it, this cinematic dark world… this fascination with this grim road to perdition has always been kind of stuck in me in a certain way. I have always used art to infiltrate - to be with one foot inside that world but actually not!"
Does the director feel more Dutch than Italian? It is a question he is often asked. "I feel more Italian when I am in Holland and I feel more Dutch when I am in Italy. That is pretty much the situation. I have no idea in which language I dream. It is a very schizophrenic relationship… the Calvinistic pragmatic Dutch walking hand in hand with the self-destructive, romantic Italian."
The Last Ride of the Wolves is produced by Halal in co-production with Jolefilm (Italy). It is supported by the Netherlands Film Fund and Production Incentive.
For more information on IFFR, click here. The full Dutch selection can be found here.