IDFA's Creative Director Orwa Nyrabia
Orwa Nyrabia talks to Nick Cunningham about this year's edition of IDFA
On the eve of IDFA 2021, which is going ahead as usual bar a little late night partying, creative director Orwa Nyrabia tells about the new festival structure. Ok, there may no longer be a designated Dutch programme but that does not mean docs from the Netherlands are any less in evidence. Far from it, he underlines.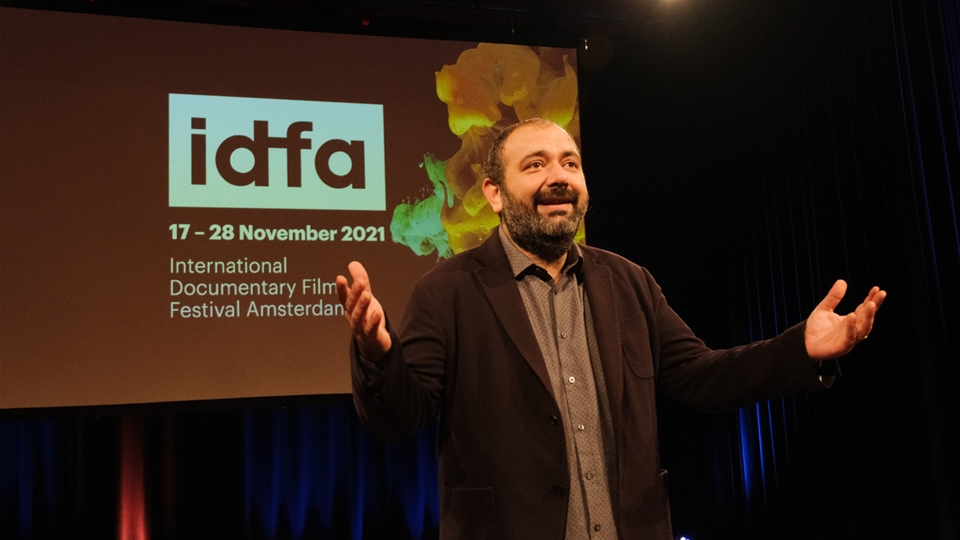 Photo of Orwa Nyrabia at IDFA press conference
"The new structure should help the audience, and industry members, navigate the programme better, and widen the spectrum of films that IDFA can present to the world," points out IDFA creative director Orwa Nyrabia of the changes to the 2021 event that runs November 17-28. "[It will] make IDFA's core even more open to diverse artistic expressions." "The aim of the new program structure is to help manage expectations," Nyrabia further underlines.

The Dutch doc fest sees the introduction of the dynamic new Envision section in 2021, whose films are defined by "stylistic integrity and courage," and which "traverse our current reality, offering visions of a documentary art form that can, might, and will be."
This section contains no less than five Dutch films, including Four Journeys* by the intriguingly named Louis Hothothot which opens the festival this year. The highly personal film addresses the destructive influence of China's former one-child policy on the director's own family.
Other Dutch films in the section include Bosnian filmmaker Tea Tupajic's audacious Darkness There and Nothing More, in which she invites two Dutch veterans of Srebrenica each to spend a night in conversation with her; and the increasingly prolific Oeke Hoogendijk, whose Housewitz goes head to head in Dutch Competition with her other film at IDFA this year, The Treasures of Crimea**, which world premieres in Frontlight.
"Envision is our line-up with films that do not fit into the categorization easily, films where the filmmaker has tried to invent their own answer to the question, the principal question, 'what is cinema?'" says Nyrabia.
"Dutch films at IDFA 2021 come from all over the world, as much as the people of our city, Amsterdam, hail from 180 countries and share the city," he adds of the local component.
"This is an exceptionally good year for Dutch documentary film. Many good films with many different approaches and styles. Established names and total newcomers. I cannot imagine more artistic or cultural diversity. I am usually concerned about offering Dutch films any kind of 'special treatment' but this year, I am confident that we were objective as we selected so many."
He further explains the essence of the festival's International Competition which has historically presented artistically confident, daring and accomplished works of universal relevance. This year 14 films will compete for Best Film, as well as Best Director, Editing and Cinematography awards.
"If you are watching a film in the International Competition, you should expect a film that is excellent, that relies on the great traditions of film dramaturgy and creates a unique experience within those conventions," stresses Nyrabia. "For example, a chronologically edited observational film that transports you to its world and makes you think and imagine, or a surprising interrogation of archival footage combined with great voice over."
In this latter regard, he could easily be describing Dutch master Aliona van der Horst's Turn Your Body to the Sun**, which explains the suffering of millions of Russian WW2 prisoners of war through the tragic (and gradually revealed) story of just one. It is a film whose creative rendering of German and Russian archive is extraordinary.

The inventiveness of the Dutch docmakers chimes sweetly within a wider festival outlook that is unashamedly international, with selections sourced from all corners of the globe. This is no accident, points out Nyrabia.

"I believe the most important change here is the fact that the selectors of IDFA come from all over the planet now," he says. "Capable programmers with all the breadth of sensitivities one can hope for. This is, to me, the true translation of being representative of the world and not only of its leading markets. I do not hope for a program that strives to show representation in a manufactured manner. When we share the decision-making power with great partners around the world, we become truly representative."
For more information on IDFA 2021, click here.
_____________________________________________________________________________________________________________
*Film is supported by the Netherlands Film Fund
**Film is supported by the Netherlands Film Fund and Production Incentive