Venice Gap Financing Market: Symbiosis
See NL talks to Marcel van Brakel as his VR-film Symbiosis will be presented during Venice Gap Financing Market
Experimental filmmaker, theatre director and media designer Marcel van Brakel caused a stir at IDFA a few years ago with his Famous Deaths installation. Members of the public were invited to climb into metal coffins where they would then hear the sounds and smells associated with JFK's assassination.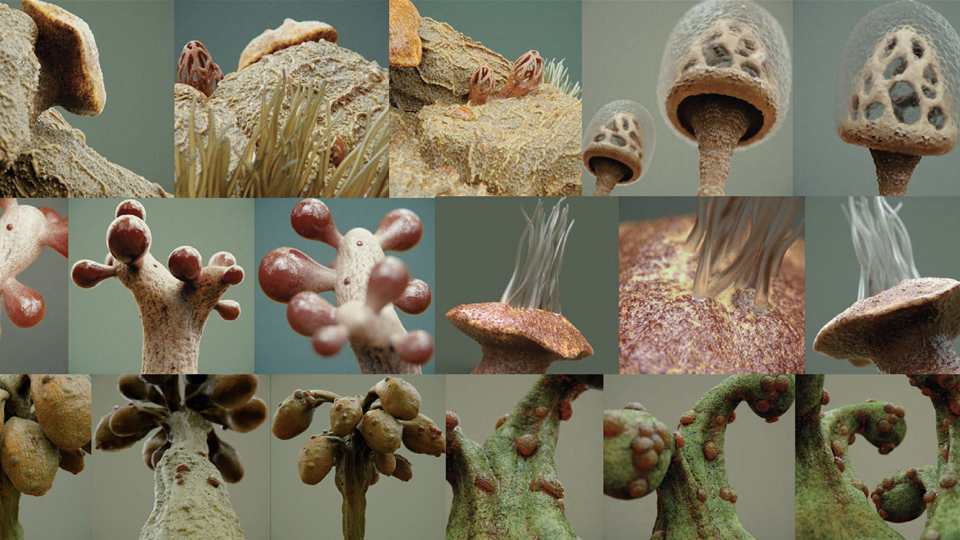 Now, Van Brakel is working on an equally adventurous VR project Symbiosis, loosely inspired by the work of American philosopher, Donna Haraway, in particular her book 'Staying with the Trouble: Making Kin in the Chthulucene,' in which the author expounds her theories about how human beings should reconfigure their relationships with the natural world. He contacted her publisher in order to secure the rights to Haraway's 'The Camille Stories' which have been described as "a speculative fiction account of 400 years of Earth's future."
Symbiosis is a multi-sensory VR installation and one of the projects chosen for the Venice Gap Financing market. Co-directed by Mark Meeuwenoord, the project is being made through Polymorf, the "interdisciplinary Dutch experience design collective" founded by Van Brakel.
The group has moved away from theatre and is now much more focused on creating interactive art. "We have got more and more interested in technology, the human body and the sensory system of the human body," Van Brakel says.
"I have also got more interested in non-human storytelling. Why not tell stories about the trees or the animals? Why does it always have to be about us?"
These ideas inform Symbiosis, which explores the way humans interact with other creatures and with the environment. This is a multi-user VR experience. There are six participants. They do not just put on headsets but also wear special suits.
"We have already started the production stage but we are doing it step by step. For us, it is all new. We never really did a big project in VR [before]. It is also the first project where we include Soft Robotics as part of the experience," Van Brakel explains. He and his team are working with air pressure to give viewers physical sensations as well as the mental stimulation they get through their headsets. "We include smell sensations, taste snacks designed by Michelin star restaurant Karpendonkse Hoeve and even hormones like oxytocin to trigger multi-sensory stimuli to create a more embodied and immersive VR experience."
He talks of "sensual robotics designed to trigger emotions." "For example, one scenario is about a frog or a toad. His mouth can vibrate. During the performance, [you can feel] his cheeks vibrate. At the beginning, that is really strange but, after some minutes, you get used to that and it becomes part of your body."
Van Brakel and his team will be going to Venice hoping to raise additional financing. He believes that VR storytelling has leapt forward during the pandemic thanks to cinemas being closed and viewers becoming more willing to experiment with new forms of storytelling.

"We have this kind of love and hate relationship with VR. In a way, we hate it!" the director says of the mixed feelings many (including him) have had about Virtual Reality. Symbiosis, though, is not just a head trip. It aims to engage the body as well as the brain. The emphasis among many storytellers now, he suggests, is as much on AR (Augmented Reality) as VR.
Along with his filmmaking and VR work, Van Brakel lectures in multimedia design at the Avans University of Applied Science in Breda. The teaching tends to take up two and a half days a week.
Several of his collaborators are also teachers. "But it also enables us to do experiments… a lot of the stuff we can now apply in Symbiosis we already prototyped with students or did little experiments to test stuff out with them."
Not that van Brakel has time to spend testing ideas. The aim is to have Symbiosis ready for the IDFA Doc Lab in the autumn - and that means every hour is now precious.
Symbiosis is produced by Polymorf in co-production with Studio Biarritz and is supported by the Netherlands Film Fund.
As part of the Dutch focus, 3 feature film projects and 3 VR projects will be presented in the Venice Gap Financing Market (September 3 - 5), 2 Dutch book publishers will attend the Book Adaptation Rights Market, a delegation of approximately 30 Dutch professionals (including See NL, Eye Filmmuseum, Netherlands Film Fund, International Film Festival Rotterdam, International Documentary Film Festival Amsterdam, producers (incl. VR), distributors, publishers) will travel to Venice and See NL will host a panel on the ins and outs of immersive storytellng in the Netherlands. For more info, click here.