Toronto 2023: Youth (Spring)
TIFF Wavelength
Producer Denis Vaslin, who runs Rotterdam-based Volya Films together with Fleur Knopperts, discusses why he boarded Wang Bing's epic 3.5 hour documentary Youth (Spring), itself the first part of a 11-hour essay on contemporary China. The film is included in the TIFF Wavelength section. Vaslin talks to SEE NL's Nick Cunningham.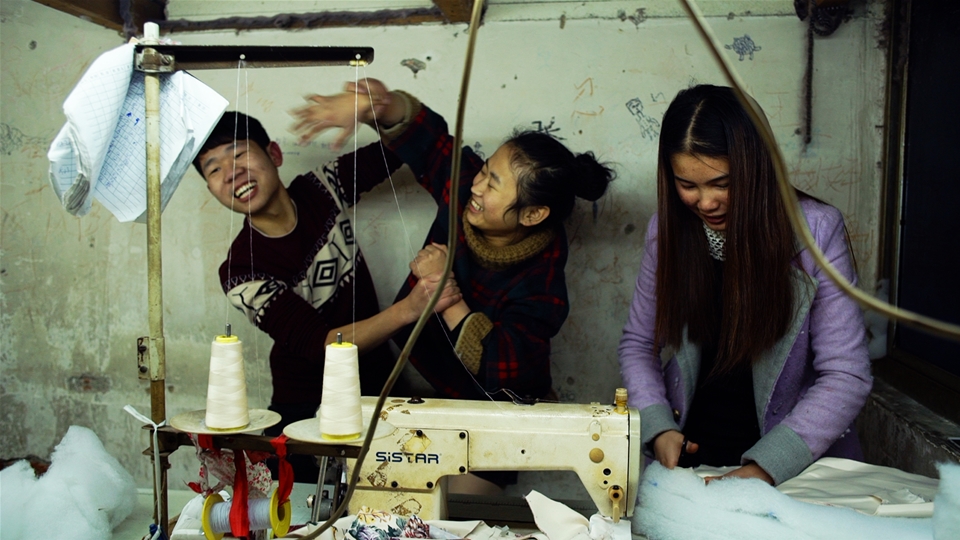 Youth (Spring) by Wang Bing
Chinese auteur Wang Bing is no stranger to long-form documentary making. His 2018 Beauty Lives in Freedom clocks in at 5 hours 30 mins while Dead Souls (also 2018) is over 8 hours in length. His 15 Hours (2017) requires no further explanation as to its duration.
His latest opus Youth (Spring), sold by Paris-based Pyramide Films, is equally immersive, set in the city of Liming, close to Shanghai, which is a centre for textile manufacturing. The synopsis reads how young people migrate there from Yunnan province, 2,500 km to the west of Shanghai, near the source of the Yangtze River. These young workers share dormitories and eat together in corridors, all the time looking to realize their dreams of starting a family, buying a house or setting up their own workshop. Between them, friendships and love affairs are made and unmade according to the seasons, bankruptcies and family pressures.
Co-producer Denis Vaslin of Volya Films has long been an admirer of Wang Bing's uncompromising work. "He is a unique filmmaker, very courageous in his method and perseverant. He really works to get the trust of his characters, to let them tell their stories and help them tell their stories - and that takes a lot of expertise. He shoots for long periods of time and he presents us a side of China that we might see in the news, but that we never see on film."
With Vaslin as co-producer, the film received €50,000 in NFF+HBF support (the initiative run by the Netherlands Film Fund and IFFR's Hubert Bals Fund). The subsequent Dutch work on the co-production mainly involved the sound editing and mix, provided by one of Vaslin's long-term collaborators Ranko Pauković of Amsterdam-based Editson.
"Ranko's work was great, but first we had to win the trust of Wang Bing because it was the first time we were working with him and he is very demanding and precise in what he wants." The director wanted the sound to be "rough, as realistic as possible," which Vaslin concedes may sound counterintuitive, until he points out how, in the main, the sound that audiences experience in the auditorium is seldom akin to the actual sound on set. For his film, Wang Bing demanded "authenticity," which Pauković delivered. The pair worked together in Amsterdam before eventually everything completing the sound at Studio Fresnoy in Lille.
What the Volya Films MD is certain of is a highly fruitful future career on the international circuit. "It's going to have a great festival life. I'm convinced," he emphasises.
On the home front, he is confident that it will perform well to cineastes, although local distribution is yet to be secured. "It is a long film and distributors are not going to invest on paper." That said, he expects to find "a good combination with a good distributor" for release across The Netherlands and Benelux.
One obvious and natural outlet for the film is the Eye Filmmuseum in Amsterdam, the Dutch home for intelligent documentary and arthouse cinema. "We have, from the beginning, had the support from Eye because they have known for many years the fantastic work of Wang Bing," Vaslin ends.
Youth (Spring) is produced by Gladys Glover (FR), House on Fire (FR) and CS production (FR) in co-production with Volya Films (NL) and Les Films Fauves (LU). Sales are handled by Pyramide.
________________________________________________________________________________________________________________
We interviewed Denis Vaslin before Cannes 2023. This interview has been updated for Toronto International Film Festival.