Locarno 2023: The Human Surge 3
Concurso Internazionale
Dutch co-producers Naomi Pacifique and Albert Kuhn (Revolver Amsterdam) tell SEE NL why they boarded the latest film by Eduardo Williams, which follows a meandering group of friends within a rainy, windswept world. The Human Surge 3 was shot using a 360 degree VR helmet-camera before its framing onto a 2D screen through the use of VR goggles.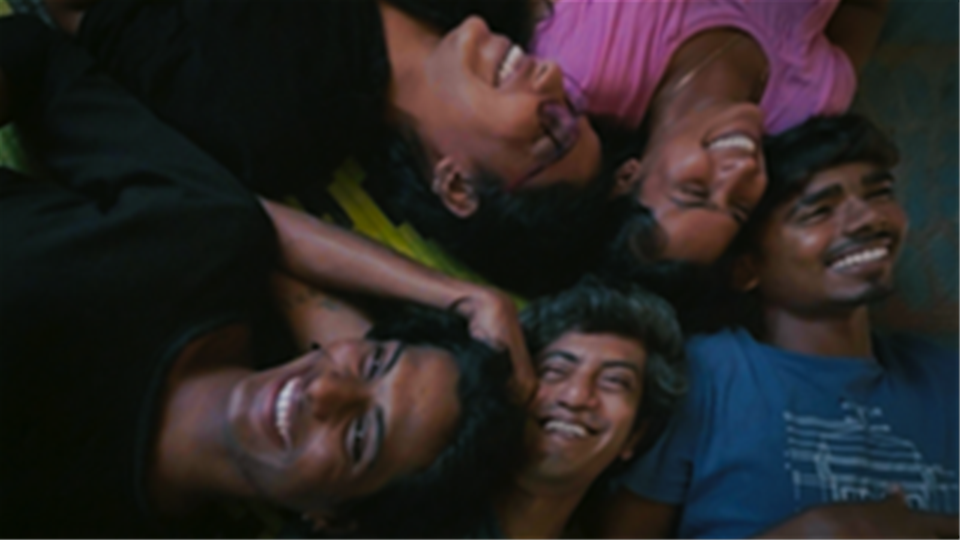 Still: The Human Surge 3
In 2016, Argentine director Eduardo Williams presented his debut feature The Human Surge at Locarno, where it won the Golden Leopard - Filmmakers of the Present. In 2023 he is back with The Human Surge 3 (there was no Human Surge 2) which is co-produced by Naomi Pacifique and Albert Kuhn of maverick Dutch production house Revolver Amsterdam.

Like its predecessor, the film presents young protagonists who are moving between spaces, both enjoying and searching for intimacy. The journey is slow and we don't know where they are headed for (although when they arrive, we see some of them tumble and fly joyously through the sky), but they all share a bond, even if the climate is wet, windy and unwelcoming, and the jungle paths that they travers aren't always so well defined. Nevertheless, a sense of optimism permeates this odd fellowship and the new possibilities that their rambling seems to open up.

Just as intriguingly, the visuals can be highly discombobulating, a result of their being shot on a 360 degree VR helmet-camera. These were then transposed to 2D with optical choices applied "through Williams' body, through his head, through his neck," using his VR goggles, Kuhn explains. On screen, faces become distorted as they approach the central seam of the screen, and the fish eye perspective enables characters both to approach and recede from the camera while remaining equidistant from it.

Kuhn and Pacifique met Eduardo Williams at the Catapulta Cine pitch event in 2021 (organized by the Mexican Festival FICUNAM). Both were avowed fans of the director's first film, and were determined to explore the possibilities of co-production on The Human Surge 3.

"For Teddy, it's very difficult to write a script that really reflects what the film is gonna be," explains Kuhn of their initial discussion. "I think you really need to know his work in order to trust that the process is what counts…It's better not to imagine exactly what the result will be but to trust that the process will end up in the right place."

Pacifique concurs, referring to Williams as a "modern day Beckett" in his depiction of "nothingness and absurdity," and her decision to get involved was based on total trust of the director. "To produce a filmmaker that I love is a huge privilege. It's like getting a peek into their process and also being part of the journey," she explains. The Netherlands Film Fund was obviously of the same opinion as they supported the project's VFX. "The whole program had to be coded for him so that he could put the film inside these goggles and subsequently record his actions," Pacifique explains of Williams' unique method.

"I think the result is pretty amazing," adds Kuhn. "You have the feeling of being in this ghost gaze almost all the time. You are there, but you're not fully there as a spectator. Then at some point you also have the feeling of intervening with them - but not really. So you're always in this limbo. Williams applies this materialistic approach to spirituality, or to spiritual perception."

The Human Surge 3 seems destined for a successful festival career and there is a strong possibility of streamer pick-up given the niche audience that Williams has attracted over past years. Sales are handled by Rediance.

The Dutch producers further stress how easy it was to work with Williams, with Pacifique noting how his calm method is very much akin to that of Thai director Apichatpong Weerasethakul. So will they be available to co-produce further works by the Argentinian?

"A hundred percent," enthuses Kuhn. "Teddy represents this uncompromising filmmaker. He's very much about process, art and experiment - his approach is very pure in that sense - and he really opens up the opportunity for the spectator to approach the film how they want. So for us, yeah, it would be amazing to work with him on his future projects."
Interview by Nick Cunningham