Annecy 2023: Is Heaven Blue? #2
Off-Limits Short Film Competition
"I never felt the urge to rebel against my parents," Menno de Nooijer reflects to SEE NL's Geoffrey Macnab on why he has been able to work so closely with his immediately family without the saucepans flying. "In a way, they didn't behave like parents. They always treated me equally." Their new work is selected for Annecy.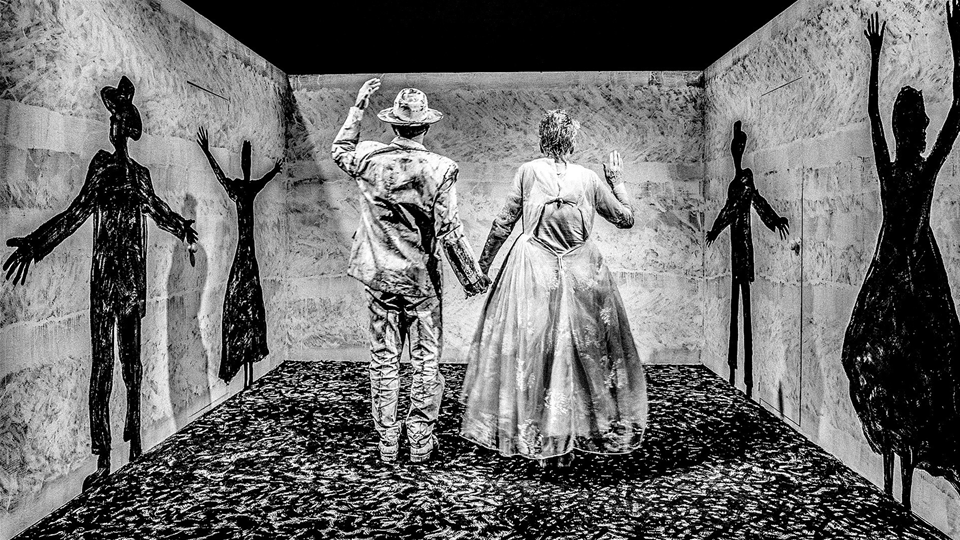 Is Heaven Blue? #2 by Menno de Nooijer
"But what is it like to work so closely with your mom and dad?" It's a question Dutch artist and filmmaker Menno de Nooijer is frequently asked. He and his father, Paul de Nooijer, have been collaborating for over 30 years on films, performances and installations. Menno's mother, Françoise de Nooijer, is also intimately involved in almost all their projects.
"I never felt the urge to rebel against my parents," De Nooijer reflects on why he has been able to work so closely with his immediately family without the saucepans flying. "In a way, they didn't behave like parents. They always treated me equally."
De Nooijer tells a revealing story about when he was a teenager and wanted to go on a night out. "I asked what time I had to be back in the night. They said 'what do you think would be a good time to come home?'" They patiently explained to him that if he came home at 4 o'clock in the morning, he would be very tired on Sunday and that he might get behind on his homework. They made it clear, though, that it was his choice.
"When you are with your parents your whole life, it is very easy to communicate. We don't fight," the artist continues.
The family's new film together, Is Heaven Blue? #2(screening in Off-Limits Short Film Competition in Annecy) is one of their most poignant. Using animation, pixilation, photocopying and old-fashioned slapstick, the documentary acknowledges fully the passing of time. Paul and Françoise have grown old. Their minds and bodies are beginning to rebel against them but their creative impulses remain as strong as ever.
Paul, who is about to turn 80, was diagnosed with prostate cancer several years ago. The cancer has spread and doctors have issued gloomy prognostications about how long he has to live. He continues to defy their forecasts but Is Heaven Blue? #2 has an elegiac feel. "He [Paul] has to say goodbye to his own life. He has to say goodbye to his own body. It is starting to be very difficult for him to walk even…he has to say goodbye to working with me. He has to say goodbye to the place where we live. Also, he has to say goodbye to his wife."
Françoise and Menno are also saying their goodbyes in the film. This may be one of their final collaborations. Menno may soon have to continue on his own.
This may all sound downbeat and gloomy but Menno insists that the film, like all the previous family collaborations, was "very much fun" to do. It's a surrealistic and playful journey through their pasts which has plenty of humour. (Menno cites Buster Keaton as one of his main filmic inspirations).
"When I was a child and I would go to other children's houses, I always found it very boring because there was nothing going on," the director remembers how he much preferred staying at home, joining in his parents' crazy art ventures, to visiting friends. He still gets the same pleasure working with them today.
The film is dedicated to Job, the brother born on 19 October 1965, who died the same day, and whom Menno never knew. He tells a very sad story about his sibling.
"He [Job] was born two years before me. He had just arrived in this world and my father said there is something wrong with him. He went to a nurse and asked please come and check our child. The nurse came and said there was nothing wrong…after two hours, he saw it was worse and went again to the nurse. They saw something was wrong and they took the child. That was the last thing my parents saw. They have not seen the child dead. They do not know what happened to the child. My father was told to go home and take away all the things connected to the baby. My mother was told, OK, it went wrong this time, better luck next time. They both were told not to talk about it, together or with other people. They were told just to forget about it. Of course, that is impossible as a parent. Their whole life, they have been suffering with this…"
Now, thanks to the film, Job is at last being acknowledged and remembered.
Menno hasn't discounted working with Paul on further projects in spite of his father's faltering health. "Two weeks ago, he got very bad news, news that all his medication is not working any longer. That seems to be the end of his life. But we will see how it goes. He gets so much energy by creating work. We have the feeling that it really keeps him alive. When he is in the working mode, everything else is pushed away. It seems he is able even to push away the sickness."
The family made Is Heaven Blue? #2 under the radar, without conventional funding, but secured co-production support from the Norwegian company Trollfilm to complete the project who in turn sourced funding via Østnorsk Film & Spillsenter and Fond for lyd og bilde.
The EYE Filmmuseum is now collecting all the De Nooijer films and is also gathering together information about how, where, when and why this work was made. The Nederlands Fotomuseum in Rotterdam is taking the De Nooijer photo albums. It seems certain therefore that the De Nooijer legacy will live on.
Is Heaven Blue? #2 is produced by Tri Eye. Festival distribution is handled by EYE Experimental.
________________________________________________________________________________________________________________