IDFA 2022: Caspar Sonnen
Interview by Nick Cunningham
The IDFA DocLab chief Caspar Sonnen fills in SEE NL on the key interactive event at which the Dutch this year play a more dynamic role than ever. "It's definitely true that DocLab has become one of the key places in The Netherlands for the connection to a wider international community of artists who are creating art between different disciplines, whether it's VR and XR, immersive theatre, live performance or digital art."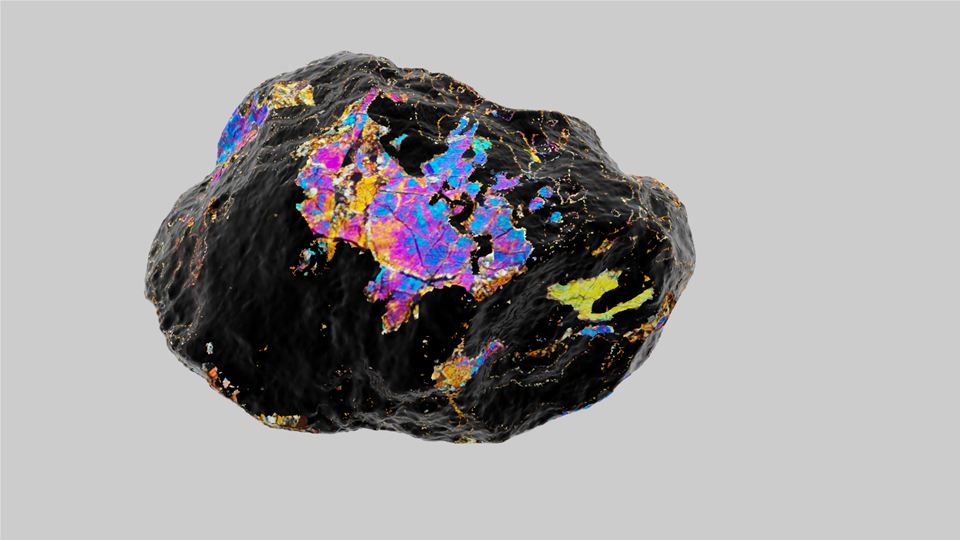 The Butterfly Effect by Mathilde Renault

Celebrating its 16th edition, IDFA's 'new media' section returns to the heart of Amsterdam in 2022 for 10 days of in-person digital and XR programming. And the Dutch contingent of interactive creatives return with it. The theme this year is Nervous Systems, as experienced within our bodies and in terms of our response to the reality that surrounds us. And as we have come to expect from DocLab, the overall experience will be singular - in a multi-dimensional kind of way. 
Founder of IDFA DocLab Caspar Sonnen argues that while the Dutch were slow out of the blocks pushing for an ecosystem for interactive storytelling and digital art, things have been improving substantially. Fifteen years ago, the French and the Canadians were among the first putting money in "and artistically it was paying off tremendously," he says, while the Dutch didn't seem to know who should be investing in what. Should it be film investment? Tech? The broadcasters? To whom, and for which audience?
Fifteen years later, as XR and immersive media have become the new frontier, Dutch creatives are in the ascendant, with investment coming from the likes of the SCI Creative Media Institute, the Film Fund and others, and the opportunities to exhibit/perform/astonish within a widening infrastructure of events, festivals and platforms across the country have grown substantially.
"We've seen, through the very modest budgets that we provide via, for example, our R&D Program and the Film Fund DocLab Interactive Grant, how much can be achieved with a little money and exhibition support - which is also a great testament to the agility, tenacity and the resourcefulness of artists. Because in many cases, the funding is still tiny in comparison to traditional artforms and to the real costs of sustainably building an ecosystem for a new medium like VR. But looking at the recent success of large-scale immersive investments in countries like the UK and Taiwan, Holland is in a great position to push on and push interactive and immersive art."
This year's DocLab includes two recipients of Film Fund DocLab funding. Mathilde Renault's The Butterfly Effect*, world-premiering at the fest, is a 20-minute installation connecting with all our senses to make "intimate acquaintance with an entity from outer space," aka a 4.5 billion-year-old meteorite. "A variety of techniques are used to translate the various forms of scientific analysis applied to meteorites into sensory experiences, with light, sound, smell and video revealing all that's going on beneath the surface of the rock, and the viewer becomes a co-traveler on this meteorite's cosmic journey," read the project notes.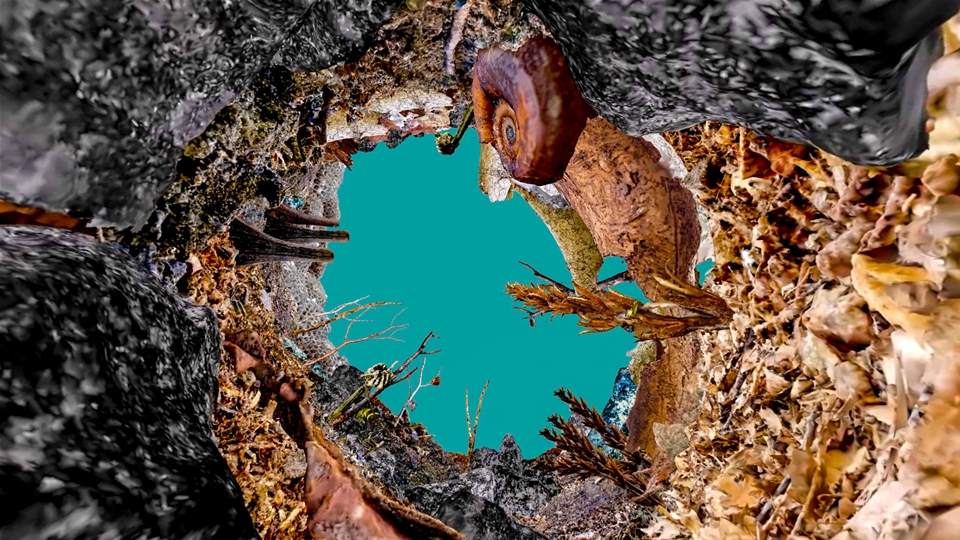 Dancing with Dead Animals by Maarten Isaäk de Heer
The other grant recipient was animation artist Maarten Isaäk de Heer whose 10-minute  Dancing With Dead Animals* (also a world premiere) is a response to the vast number of (natural) animal deaths he observed around him, from masses of fruit flies all dying together to mice brought in by his cat. So he created, via 3D photograms of their sometimes semi-decomposed bodies, a way of bringing them back to life in a danse macabre which will be projected onto the domed ceiling of the Amsterdam Planetarium. "It goes beyond good and evil, simply illustrating the same biology that governs us all," the project description reads.
Sonnen highlights some of the other Dutch interactive projects audiences should drop everything for, such as Jeroen van Loon's New Update Available – Version 2.1, in which the not-so tech savvy elderly demographic are welcomed into the interactive space, with all of their incomprehension and digital illiteracy taken into account. "It's an endearing VR installation, and very funny to anyone who ever has had to deal with shitty everyday technology," says Sonnen.
In the 10-part digital series His Name Is My Name, makers Eline Jongsma and Kel O'Neill (whom Sonnen describes as 'pioneers of interactive storytelling') investigate the life and legacy of Eline's great-grandfather Crazy Gerrit who was a rampant and fanatical member of the Dutch Nazi party. In the animated, Instagram-based series, the filmmaking duo search through archives and family memories to create a fractured portrait of the dead relative.
Sonnen also flags up the 22-minute Paradocs project A Stretch of Time made by Iranian-born, Amsterdam-based DocLab regular Ali Eslami, who won the IDFA DocLab Award for Best Immersive Non-Fiction in 2016 for his VR project Death Tolls Experience. In the new work, a disembodied figure is carried off underground, where he encounters a vast living archive. Attached to this ever-expanding "network body" are capsules filled with fragments of thoughts. The only way our hero can escape is to fulfill the Sisyphean task that has been imposed on him.
Another Dutch project is the installation piece My Toe (Uncensored) by performance artist Lisa Schamlé who puts her own big toe centre stage, asking it questions such as: Who are you? What do you like? How are we related? At some point, Schamlé decided to set up an OnlyFans account for her toe (/u217509940), and at certain times during free the DocLab Nervous Systems Exhibition in De Brakke Grond, the artist's toe itself will be present inside the installation.
Also world-premiering is the international co-production The Anticipation of Rain based on Dutch-Bangladeshi artist Naima Karim's paralysis by virus when she could do nothing but look at the sky. "She then experienced the monsoon even more intensely than usual: the initial gusts of wind, the rapidly darkening sky, the oppressive humidity and finally the downpour of rain, which washes everything clean and leaves behind a fresh scent.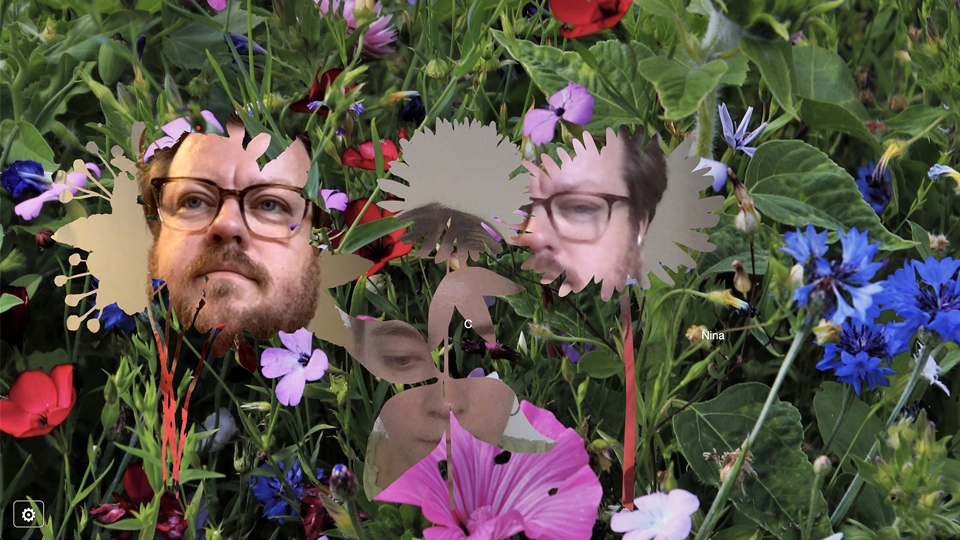 Social Bouquet by Constant Dullaart
Dutch conceptual artist Constant Dullaart's Social Bouquet is described as "a place where you can genuinely get together with friends, rather than just being a target for clickbait or competing with others for likes and comments. This is an artistic attempt to reclaim the online space that we lost to practical and work applications during the pandemic, because surely more should be possible in an online encounter than just an efficient Zoom meeting," read the project notes.
Sonnen sees DocLab as part of a growing international network of like-minded events that provide natural sanctuary for interactive artists and creatives. "Any festival that thinks they are not one of many are not looking around enough, especially in this very interdisciplinary, open, undefined space," he says. "There is no single answer to how immersive and interactive art should be presented in a festival context and in the Netherlands there are amazing things happening at places like the Dutch Design Week, STRP and Cinekid – as well between festivals. For example, this year we joined forces with the Amsterdam Dance Event to bring one of the biggest XR projects of 2022 to Amsterdam together (the multisensory In Pursuit of Repetitive Beats)."
"Although every festival has its own DNA and approach, it's definitely true that DocLab has become one of the key places in The Netherlands for the connection to a wider international community of artists who are creating art between different disciplines, whether it's VR and XR, immersive theatre, live performance or digital art," he continues.
"The Dutch increasingly know how to find us," he adds. "And it's been amazing to see some of the projects we've showcased and supported through our R&D program being picked up internationally. A nice example of this is DocLab 2021 Award Winner Symbiosis by Polymorf, being picked up at IDFA last year and currently doing a months-long exhibition run in the US. As such, sometimes there is a definite home advantage if you're working and living in Holland," Sonnen ends.
_____________________________________________________________________________________________________________________
*Film is supported by the Netherlands Film Fund