NFF 2022: Digital Culture
Digital Culture programmer Paulien Dresscher talks to SEE NL's Nick Cunningham
Once again in 2022, the Netherlands Film Festival gives considerable space to the country's digital creatives and the stories they are looking to tell. Programmer Paulien Dresscher outlines the digital offer to audiences and industry alike.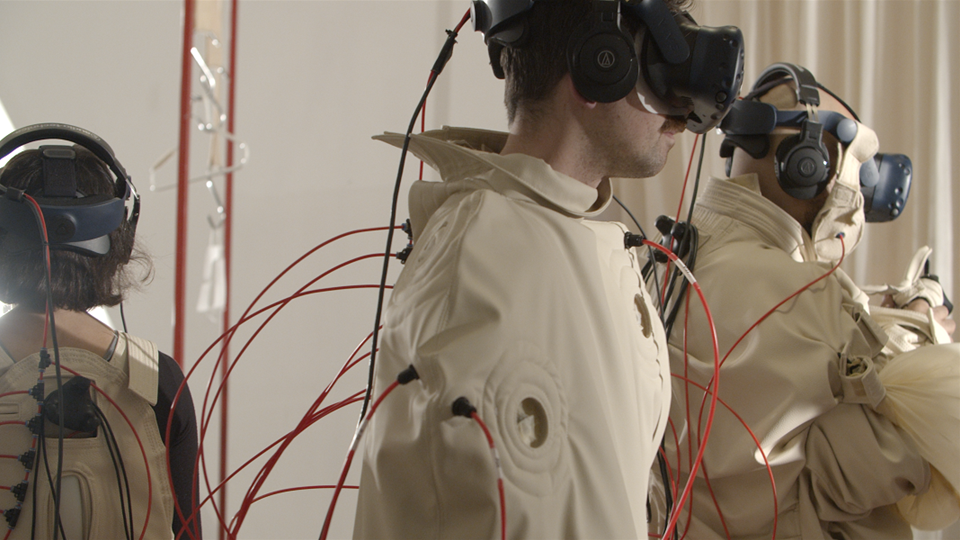 Symbiosis by Marcel van Brakel and Mark Meeuwenoord
This year's NFF Digital Culture selection is highly diverse, and presents the full gamut of subject matter (from an assessment of climate issues via stock market analysis, to menstruation to domestic violence) using a plethora of media, namely VR, XR, AR, apps, games, web series, installations and performance.
Elsewhere on SEE NL you can read about the three nominees for the Digital Culture Golden Calf. Here, NFF Digital programmer Paulien Dresscher offers an assessment of the seven other exciting projects, after first outlining to SEE NL why the festival places strong emphasis on the emerging and fast-evolving Dutch digital sector and its creatives.
"We have a very and strong vivid community of artists, filmmakers and storytellers who are trying to build new narratives with new creative technologies," Dresscher points out. "And the interesting thing is that very often those new technologies have a huge impact on us as a society. A lot of the works that come out of this area have a large relevance to societal matters."
"If you look to the impact of the internet in general on our lives, it is impossible to overestimate it. Or the effect of social media, or the impact of Bitcoin on our financial systems - it is huge," Dresscher continues. "These artists, storytellers and filmmakers, they use new tools. They use games, they use AI, they use online interactive documentaries. They even use performance. They use every kind of technology and discipline to tell their stories. And that makes it very interesting. Their output is at the crossroads of technology, society and the future, and often asks what is coming tomorrow? What is ahead of us? Where are we heading as humankind?"
In Biodiversity in Augmented Reality Chantalla Pleiter, herself a keen horticulturist, seeks to unite the ingenuity of nature and technology while presenting an ode in which endangered Dutch plants are allowed to bloom both artistically and musically. "It is very delicately made and beautifully drawn and translated into beautiful little animations, and it really gives attention to the plants that are facing extinction," Dresscher explains. "Pleiter is actually trying to protect something that is very important to her personally. That is what can save our nature. When you have those personal relationships with nature, then you fight for it."
The Environmental Stock Exchange by Cream on Chrome exhorts us to forget the cryptocurrency mania and the NFT hype – invest instead in ant colonies or Alpine meadows. In this computer simulation, financial investments come with an ecological price tag. "What if the stock market was being put on top of the ecosystems? How can we combine those two and make people care about nature that way," asks Dresscher. "For Cream on Chrome it is about the personal relationship towards nature and applying the model of capitalism. Like Biodiversity in Augmented Reality it is looking for possible future narratives to look at the world in a different way and thereby change it for the better."
Post Neon's Last Grain of Sand offers a beautiful, surreal and spiritual VR account of a raw material which is so essential to our existence but which is under threat. "It is based on the work of geologist and sand expert Michael Welland who has worked together with sand researchers, academics, curators and creatives, using different crews with different competences," comments Dresscher. As Welland says, "Remove everything that depends on sand from our lives and our world would look dramatically different. We would have no glass, no computer chips, no buildings. We are simply not aware of how important sand is in everyday life."
In the revealing and enlightening Maandverbond by Eefje Suijkerbuijk, 28 Telegram channels report each day on the 28-day menstrual cycle, so anyone with a womb can join this 'live hormone safari' on any given day. "Gynaecologists, experts and women of all ages talk openly about menstruation needs and what it means to have a uterus," explains Dresscher. "So it is really inclusive. It feels like television, but television with a taboo-breaking topic, one not normally talked about and which the majority of people hardly knows anything about. And it comes straight to your phone. To my idea, it is the future of television."
Wearing a full body suit fitted with sensors, Symbiosis* (Marcel van Brakel, Mark Meeuwenoord, IDFA DocLab winners 2022) enables users to experience what it is like to morph with another animal or plant in gentle co-existence. The experience comprises a voyage of exploration through touch, smell and even taste. "The technological thought experiment is based on the philosophy of Donna Haraway where you jump years into the future to see how we, as humans, can merge with animals to create better circumstances for the earth and for us to coexist better. So you can experience how it feels to be slime mould or a toad or a plant… it is a completely immersive experience," comments Dresscher.
In Waarom ga je niet weg, Rubina, a victim of domestic violence finds a safe haven with neighbour Anneke. Their story in this interactive documentary offers insights both for women in the same position and for onlookers. The title means 'why don't you leave?' "You hear the voiceovers of two neighbours who are trying to help each other in a situation of home violence. It is made by animators Tone Koppelaar, Lotte Dijkstra and director Sara Kolster, a well-known documentary maker who makes audio and VR documentaries and who often works with vulnerable topics and stories. And this is also a very intimate story," says Dresscher.
In Hanna van Niekerk's Wadoeje, an NPO series packed with awkward teenage dilemmas, the audience is offered the chance to make the difficult decisions and therefore determine how the varying stories should unfold. "It talks about all those things teenagers are being confronted with. What do you do if someone takes a picture while changing in the pool? What do you get your rich girlfriend if you have no money? How do you respond if you are ashamed with something your mother is doing?"
"It is inspired by Bandersnatch, the Netflix interactive series, so halfway through every narrative, you have to say what the protagonist should do," adds Dresscher. "It is really nice that the public broadcasters are experimenting with this kind of interactive and creative content, and we thought it was a perfect project to have in the selection this year."
A selection of these works can be experienced from Thursday 22 September until Thursday 29 September at the Bibliotheek Neude in Utrecht. On Friday September 30 the Golden Calf for Best Digital Culture 2022 will be announced.
________________________________________________________________________________________________________________
*Film is supported by the Netherlands Film Fund