Locarno FF 2022: Neighbour Abdi
Dutch filmmaker and visual artist Douwe Dijkstra talks to See NL's Nick Cunningham about his short film Neighbour Abdi, which is selected for Pardi di Domani Competition at Locarno 2022
"Bro, you should make a film about my life," neighbour Abdi tells Douwe Dijkstra in voiceover at the start of the film, as we see his head resting enormous and imposing within a dramatically lit war zone, sirens blaring in the background.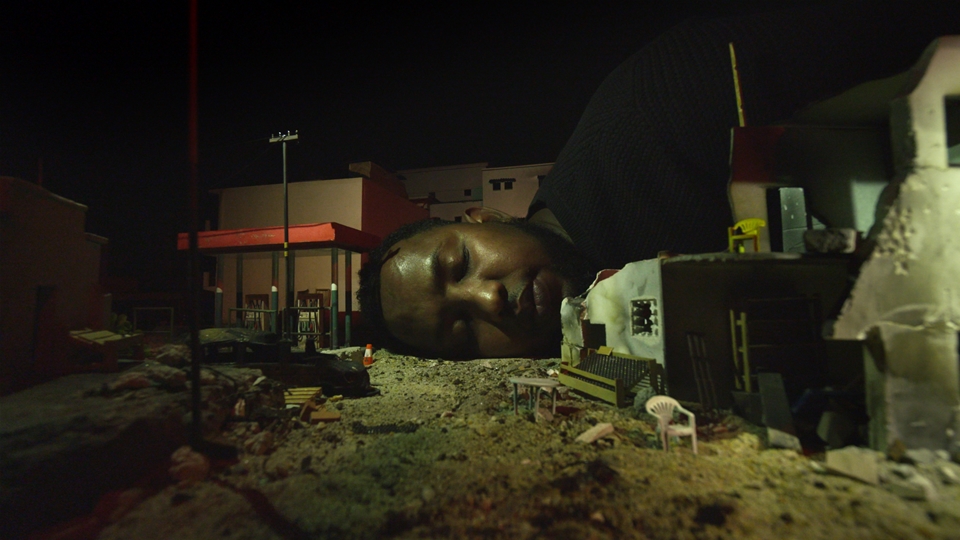 Neighbour Abdi by Douwe Dijkstra
For as long as he has lived next door to Dijkstra, this has been the assertion of the Somali-born furniture designer and support worker who explains how he has lived "between madness and danger [and] mercy, and packed with creativity." Before and after settling in The Netherlands, his life was also a violent one, and his body bears many scars born of war or criminality.
So director Dijkstra sets out to tell Abdi's story, candidly and painfully but not in an overtly narrative way, deploying instead a freewheeling and visually engaging aesthetic in which the filmmaking process, and especially the creation of green screen special effects, is fore-fronted.
Abdi makes very stylish shelves, using a spark-spitting angle grinder that is also put to good use by the director when replicating gunfire on the streets of Somali capital Mogadishu. "He is very expressive and he is very creative and funny," Dijkstra says of his subject. "And he is not ashamed to talk also about the dark parts of his past. I thought that was very intriguing."
"It has been a combination of trauma and difficulties with being accepted into society, finding a job, and at the same time there were the opportunities to go for fast money in dealing drugs. This spun out of control because he had no social safety net," explains the director, adding how meaningful help came in the form of the therapy Abdi received after being set to jail. "In a way he was lucky, it could have ended way worse. But he is now able to help others walking the same path."
What makes the film such a fascinating watch is how Dijkstra pulls back the curtain to reveal the process of SFX production, without diminishing at all from the vibrancy of the experience. As we watch a character in jeopardy, the dramatic background will suddenly switch back to green, reminding us that this is more than the retelling of a violent story. The viewer is as much anchored within the playful and creative world of Abdi's present as his violent and disturbing past. Dijkstra calls it his "making of" approach. "I set out to re-enact the scene, but then I allow the 'making of' to take centre stage," he says.
"It does not take away from the drama or the impact of the scene, but it actually enhances the things that happen on set. They become loaded with this context and history, and it is a lot about how that history is dealt with in the present moment - it is dealt with by using humour and wonder."
Dijkstra may be an avant-garde artist using a film technology that never ceases to amaze in its transformative effect, but he also classifies himself as a creative documentary filmmaker (and very much a "one-man band" at that). "My process is very investigative, working through research and experimentation. But then I also find that in this 'making of' approach, it is never about the technical side of things. For me, it is always about showing the perspective of me as a filmmaker, or the way I relate to the topic or to my protagonist or subject," he points out.
"And this way of combining the manipulation and staging and construction of images together with documentary filmmaking is something I really want to continue working on in the future."
Neighbour Abdi is produced by Valk Productions and sales are handled by Square Eyes. The short is supported by the Netherlands Film Fund. Find more information on Locarno Film Festival 2022 here.