FIDMarseille 2022: Insieme Insieme
Bernardo Zanotta, who studied film at the prestigious Rietveld Academy, talks to See NL's Nick Cunningham about his 'long short film' Insieme Insieme, which world premieres at FID Marseille
Shot during early lockdown beside an abandoned Lake Maggiore, Insieme Insieme tells a deliciously gory tale of torture, murder and general gratuitous overindulgence, with a bit of Les Liaisons Dangereuses thrown in to spice things up even more. It is a film reminiscent of the early films of John Waters at his best (or worst, depending on your personal tastes and the levels of excess you can bear) and those ever so groovy, heat-drowsy Italian crime flicks from the 1970s, where style trumped everything (and maybe even a touch of Jules et Jim).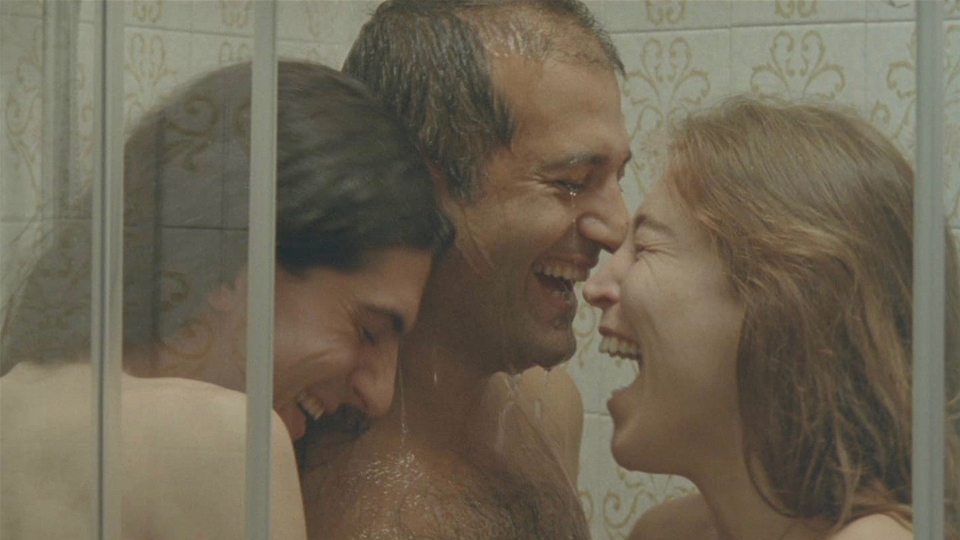 Insieme Insieme by Bernardo Zanotta
In Insieme Insieme we follow a libertine trio that comprises a beautiful vamp (Isabella), a drag queen (Cecilia) and an older, ostensibly unremarkable man (Rafael) who is, nevertheless, just as eager to indulge in three-way sex in the shower, a bit of sadomasochism and the handy removal of a body or two when necessary.
During their permanent vacation in the Italian lake region, the mysterious trio take captive an innocent tourist (who is as plain as they are exotic) and subject him to vicious bouts of torture. Then one of our heroes dies a grand guignol death in a church (where else?). But not before lashings of irony, a ton of B-film fun and even a touch of lyricism. "I took you with pleasure, I leave you without tears," Isabella tells her hapless victim.
"I was deeply influenced by the nouvelle vague, and its typical gang of outsiders," director Bernardo Zanotta tells See NL. "It is a trope that often returns throughout film history, and one which I wanted to explore."
"It was also about celebrating the joy of cinema and the joy of making films," he adds.
Zanotta first had the idea to make the film in 2018 after driving through the glorious Italian lakes out of season, when the area had an eery abandoned feel. When he returned to the idea in early lockdown in 2020, that sense of abandonment seemed even more acute.
So he convinced France-based producers Yann Gonzalez and Flavien Giorda of the project's validity and the need to act quickly. They were able to raise finance from the Île de France region, combined with Mondriaan Fund funding that Zanotta had been granted in The Netherlands, where he collaborates with producer Manon Bovenkerk. Working with friends and a tiny crew, the subsequent film was turned around in a matter of months, the director notes.
Zanotta's film world embraces stylish, gross-out violence as easily as it does "transgressive" queer and LGBTQ culture, all located within a deliciously familiar European mise-en-scène lifted straight out of the 1970s. "The fringe between these things is something that I'm interested in."
Given the complexity of this cinematic world, one could have imagined the film as a feature. But no, says Zanotta, it was always destined to be a "long short film," of somewhere between 35 and 50 minutes. That said, he would not be averse to revisiting his indolent characters some time in the future.
"I would love to expand their universe further, and there are actually ideas to make a kind of a prequel to this film," he says. "All the people involved in the production agree that there's so much more that we could say about these characters' lives."
But that will have to wait, because after FIDMarseille Zanotta will start shooting his next film, based on the life of philosopher Michel de Montaigne. "This one is a deep dive into a totally different genre, a historical costume drama with touches of science fiction here and there," he explains. "I want to explore the idea of what a fictional essay can be through the life of Montaigne and his writings."
Insieme Insieme is produced by Near/by Film. Festival distribution is handled by Eye Experimental.
____________________________________________________________________________________________________________________