VR Expanded Competition: Angels of Amsterdam
Dutch makers Anna Abrahams and Avinash Changa talk to See NL about their latest project that is selected for the VR Expanded Competition
In their ground-breaking volumetric VR world-premiering in Venice, Dutch makers Anna Abrahams and Avinash Changa tell the story of four fierce and ambitious women who decide to fight for their fair share of the wealth on offer during Amsterdam's Golden Age.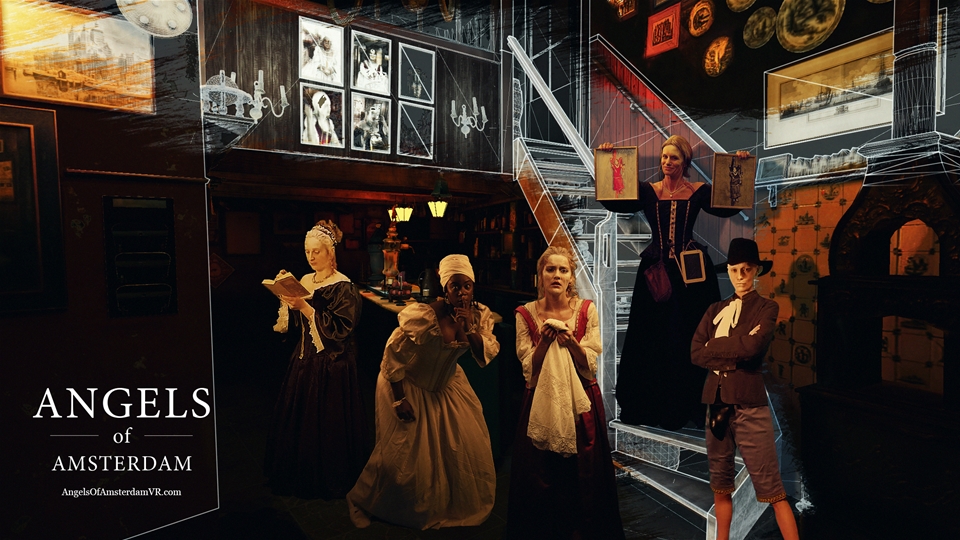 The starting point for Angels of Amsterdam was 'Amsterdam Whoredom,' a book written in the 17th Century for a male audience demanding both titillation and guidance as to where and how to spend their guilders. But in Anna Abrahams and Avinash Changa's 21st Century retelling, there is a twist, whereby the story is told from the POV of four women from the period. Maritgen Jans, Juliana, Elsje Christiaens and Pussy Sweet may be "lost in the city," but they are women striving both to survive and to succeed, and in the process fully retain their personal agency and integrity.
"We use these stories of 17th Century women to show that what is going on right here, right now, is the same as what happened then, that our whole society is structured around power systems and that the power systems are against women, against people who want to change their gender, against people who are black and against women who want to enjoy their sexuality," Abrahams explains. "So these four stories of the women are about these issues. And it is very strange to realize when you are doing this historical research that not so much has changed, that you can recognize so much… these stories are a metaphor for our situation now."
When Abrahams was introduced to WeMakeVR founder and CEO Avinash Changa, she knew immediately that she had found the perfect partner for the project - ant the feeling was mutual.
"When I met with Anna there was a very strong click, and it was very apparent quite early on that this was a lady who was invested in the project, was doing her homework and was going to be a proper full-blown running mate with us," says Changa, who was more used to creatives coming in, dumping an idea and then taking all the credit for his hard work. "When you have someone you feel you're going to have that kind of equal balance with in creating something like this, then I felt confident. Like, okay, this is a journey that we can go on together."
Replies Abrahams: "Avinash immediately understood what it was about. It has all these layers, because Angels of the Amsterdam is very serious and political. But it is not only that, it is also very funny and touching and beautiful and engaging. So I really had to find somebody who was sensitive to all these layers. And Avinash was the guy."
But what the filmmakers also realised was that their story needed something other than traditional 360 VR, which "looks realistic, but the moment you start to move or try and connect with the characters in a story, the illusion kind of falls apart."
"It was very clear that we needed to get that emotional connection between the user and the experience," says Changa. "Therefore we created a new technology, a new level of volumetric technology. This allows the characters to be so realistic, so human-like that you respond in that same emotional way."
The action takes place in a digital reconstruction of 't Papeneiland, a real 17th Century café which still exists, but which was recreated for VR using lidar-scanning, photogrammetry, 3D-modelling, time-of-flight-scanning, and hundreds of hours of manual touch-ups and refinements. In the work, the bar is populated by all manner of folks, all of whom are willing to engage with the VR user.
"Once you start observing these people, you do not think about the technology. Because of the technology you feel immersed. You feel that you are there, they look at you and you look at them and when you meet their gaze they start to share their stories either in a modern dance or in song or using other ways of expressing themselves," says Changa. "And there is, in my opinion right now, no other medium that is as powerful and as scalable to convey this emotional connection other than this type of volumetric VR. Adding to that, the level of realism that we have in this piece is unprecedented. We created custom technology, which makes this more realistic in terms of volumetric VR than anything that has been produced to date. And this is not just us as makers saying that, this is also being confirmed by a number of specialists in the industry who saw early previews of the work."
So what is the life cycle of a VR such as Angels of Amsterdam, both on the festival circuit (the work has already been signed up for exhibition at the Netherlands Film Festival in September) and out in the wider world? For once, the pair do not quite see eye to eye, albeit in kindly fashion.
"In terms of this being a volumetric piece and it being so innovative, so leading edge, means it'll have a valid life cycle for festivals of at least the next year," says Changa, "No, two years," counters Abrahams.
"Yeah, I am always a bit overly careful with that, but you are right," concedes her partner. "I mean, we are definitely ahead of the curve, so we will keep it valid for festivals. Beyond that, of course, you will see distribution online. So it is not just the festival circuit. We will be making this experience available to end-users as well."
Angels of Amsterdam is a co-production of WeMakeVR and Rongwrong Foundation and has been supported by the Netherlands Film Fund, Creative Industry Fund NL and the Amsterdam Fund for the Arts.