Tribeca 2021: Do Not Hesitate by Shariff Korver
See NL spoke with the director before Do Not Hesitate's world premiere at Tribeca
Traumatised young soldiers back from a war zone are in a Mediterranean resort town being debriefed during the day before going wild in the clubs and discos all night. Filmmaker Shariff Korver could not get this story out of his head. He read about the soldiers in a magazine article way back in 2010, but the idea stayed with him, eventually inspiring his new feature Do Not Hesitate.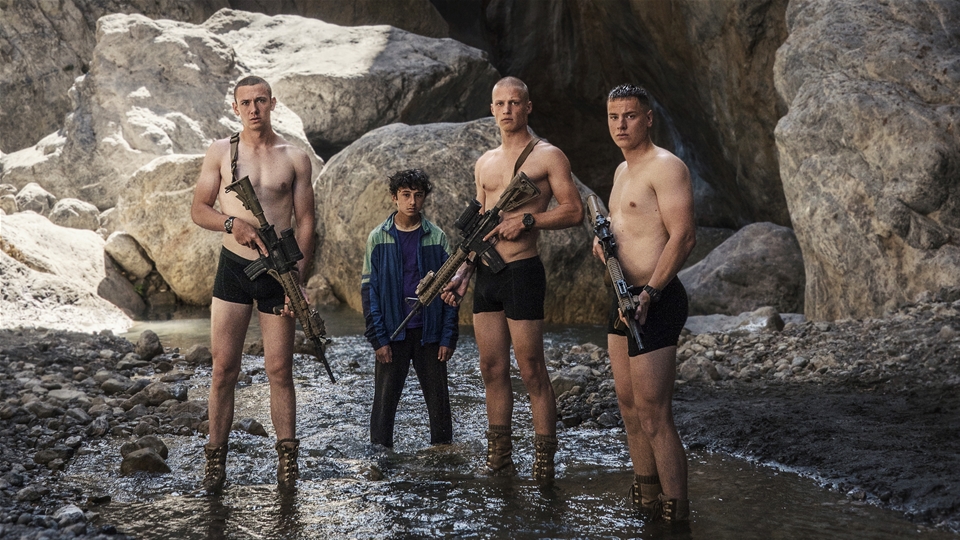 Do Not Hesitate follows three Dutch army recruits, 18 or 19 years old, on a peace-keeping mission. They have been left behind to guard a military vehicle that has broken down somewhere in the mountains in what could be Iraq or Syria. Korver and his screenwriter Jolein Laarman deliberately withhold the precise details of where the soldiers are stuck. The film was shot on the island of Crete in Greece. Korver chose this location after an extensive search which took him to Spain, Morocco and Croatia among other countries.
"We were searching for a particular landscape that would have something extra…like if it was another planet."
Nor do we learn much about the soldiers' back stories. They wear the same uniforms and have the same crew cut hairstyles. Only slowly, through their actions, are their individual characters revealed. As they wait for their colleagues to come back, the three men become increasingly agitated. They are in a danger zone, and their mood is not improved by the appearance of an angry teenage boy who is furious that they have killed his goat.
Dutch-based 17-year-old Syrian refugee Omar Alwan plays this boy who moved to the Netherlands with his family five years ago. Korver describes him as "an amazing force of energy and talent." The moment he came in for an audition, the director knew he would be perfect. In real life, Omar is "a very sweet and social boy, who is very smart" but he understood immediately how to play the furious and disturbed young shepherd.
Although the screenplay is not based on any specific real-life incident, it carries echoes of many real-life stories about "situations gone wrong with young soldiers committing a certain crime," says Korver.
The filmmakers went to great lengths to ensure that the three Dutch leads playing the stranded soldiers - Joes Brauers, Spencer Bogaert and Tobias Kersloot - look and sound convincing. They had to be tough, physical, and know how to handle guns. "That was very challenging to find because, in all honesty, all young actors in Holland are kids that either attend the theatre school or have just finished theatre school," says Korver. In time-honoured fashion, the three leads were therefore put through military boot camp. They all had to gain massive amounts of kilos to have the body to play the part.
The film was produced through leading Dutch independent company Lemming Film, with whom the director also worked on The Intruder and on TV series Fenix, and will be distributed in the Netherlands by September Film, while international sales are handled by Trust Nordisk. Korver completed work on it almost a year ago, but has been holding out throughout the pandemic for a proper theatrical release. The launchpad will now be Tribeca in New York - and Korver is determined to be there, whatever it takes.
As travel rules stood in late May, US borders are closed to Europeans, but Korver is still confident he can get to the festival in time. "I am hoping for the Embassy to give me a permit but they are not even answering my mails yet," says the director. That said, he has bought tickets for Mexico where he will stay for two weeks in order to meet Schengen-related US entry requirements. He adds how, after all these years working on the project, the closure moment will only come when the movie can finally be seen in a cinema with a proper audience.
Do Not Hesitate is produced by Erik Glijnis, Leontine Petit and Emily Morgan from Lemming Film (The Netherlands) and co-produced by Heretic (Greece) and NTR (The Netherlands). The film is supported by the Netherlands Film Fund, just like his earlier film The Intruder, and the Netherlands Production Incentive.
Do Not Hesitate screening schedule at Tribeca:
Monday 14 June, 08:15 PM at Hudson Yards: In-Person World Premiere
Tuesday 15 June, 03:00 AM through Cinesend: Press and Industry Screening
Tuesday 15 June, 06:00 PM through Cinesend: Virtual Screening
For more information on Tribeca, visit the event's page here.
For more information on Do Not Hesitate, visit Lemming Film here.