A Child's Nightmare: See Me by Patty Stenger
See NL to Stenger about See Me, which screens at Annecy 2021
Patty Stenger's animated short See Me, selected for Annecy Short Film Competition, is a film that can be read on many different levels. In one sense, it is a funny, child's eye view of adults and their idiosyncrasies, as observed from the knee high perspective of a toddler left to her own devices. On the other hand it is a cry for help, a story of neglect in which a small girl is forced to go to extreme lengths to attract the attention of a mother whose gaze (and flirting) is directed elsewhere.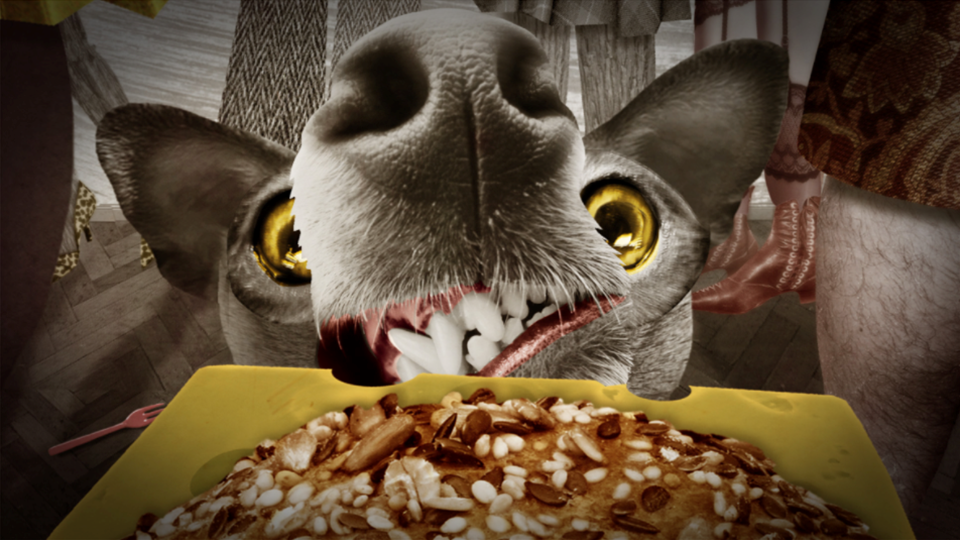 Alternatively, See Me is a film that delves deeply into the psyche and very fertile imagination of a little girl who sees imaginary new friends in the objects (and foodstuffs) that she encounters, and places them into a magical and surreal (and deliciously intriguing) mise-en-scène.
All the action within the 7-minute short takes place in a kitchen where an adult party is in full swing. A golden curtain, which is actually the dress worn by the mother of the toddler Alice, opens up onto proceedings during which the hairy legs of party-goers morph into tree trunks, and where a discarded fish comes to life transforming the party into a subaquatic nightmare from which Alice has to be rescued.
The music is ominous (with a piano refrain reminiscent of Powell and Pressburger's A Matter of Life and Death) and even the friendly family dog is a perceived threat as it steals the burger handed to Alice by her mum to keep her quiet. Even the bottle of fizzy pop that she is given to drink is branded "Shut Up."
Eventually, drastic action is needed. After her new-found fish friend is consumed by a party reveller, the little girl climbs onto a work surface and kicks plates and pastries onto the floor for attention. When that does not work, she decides to take a final leap faith to reach out to her mum.
Conceived and directed by Patty Stenger, with visual direction undertaken by Yvonne Kroese, See Me is produced by Chris Stenger (Patty's daughter) of Dutch Family Affair Films. The film picked up a Golden Calf at the Netherlands Film Festival 2021 as well as the Best Dutch Short award at KABOOM. The animation was completed by Happy Ship, and music and sound were created by Rens Machielse and Willem Schneider.
Stenger, whose day job is a television screenwriter, explains how she got the idea for See Me after walking past a kindergarten where the kids were running riot, endangering both themselves and others, while their parents were glued to their iphones, oblivious to everything. The director had been led to believe that, these days, kids are considered to be "little gods" but in essence things have not changed one thing since she was a little girl.
"I still have the idea that people just do not look at their children."
The characters in the film, which took four years to complete in-between other projects, are created out of exaggerated cut-outs from magazines and media, which are then animated in 3D. Stenger was determined that the film retained a crude look, that the animation did not render it overly saccharine, and so a happy balance had to be found continually during the production. "It had to be rough, not slick," says Stenger. "We were searching and trying, then trying something else. It was not always so easy to find the right form." She adds that even now she could easily continue tinkering with the film, but is nevertheless delighted by the critical and public response it has received. "You never know, we were not sure if it was a good film at the end, so we were very glad and surprised and excited that everybody liked it so much."
At the end of See Me, love conquers all, and Alice is embraced by a mother who is obviously very caring and concerned. So it is a happy ending? Well, sort of. There is, after all, a party to host. "So a moment later the mother places Alice back on the ground, and then the whole nightmare story starts over again," Stenger ends ominously.


For more Information:
Overview Dutch (co)productions at Annecy 2021 and Screening Schedule
Showreels Dutch animation at Annecy 2021
Annecy International Animation Film Festival
________________________________________________________________________________________________________________
See Me is supported by the Netherlands Film Fund.